DermaGen Skin Recovery Lotion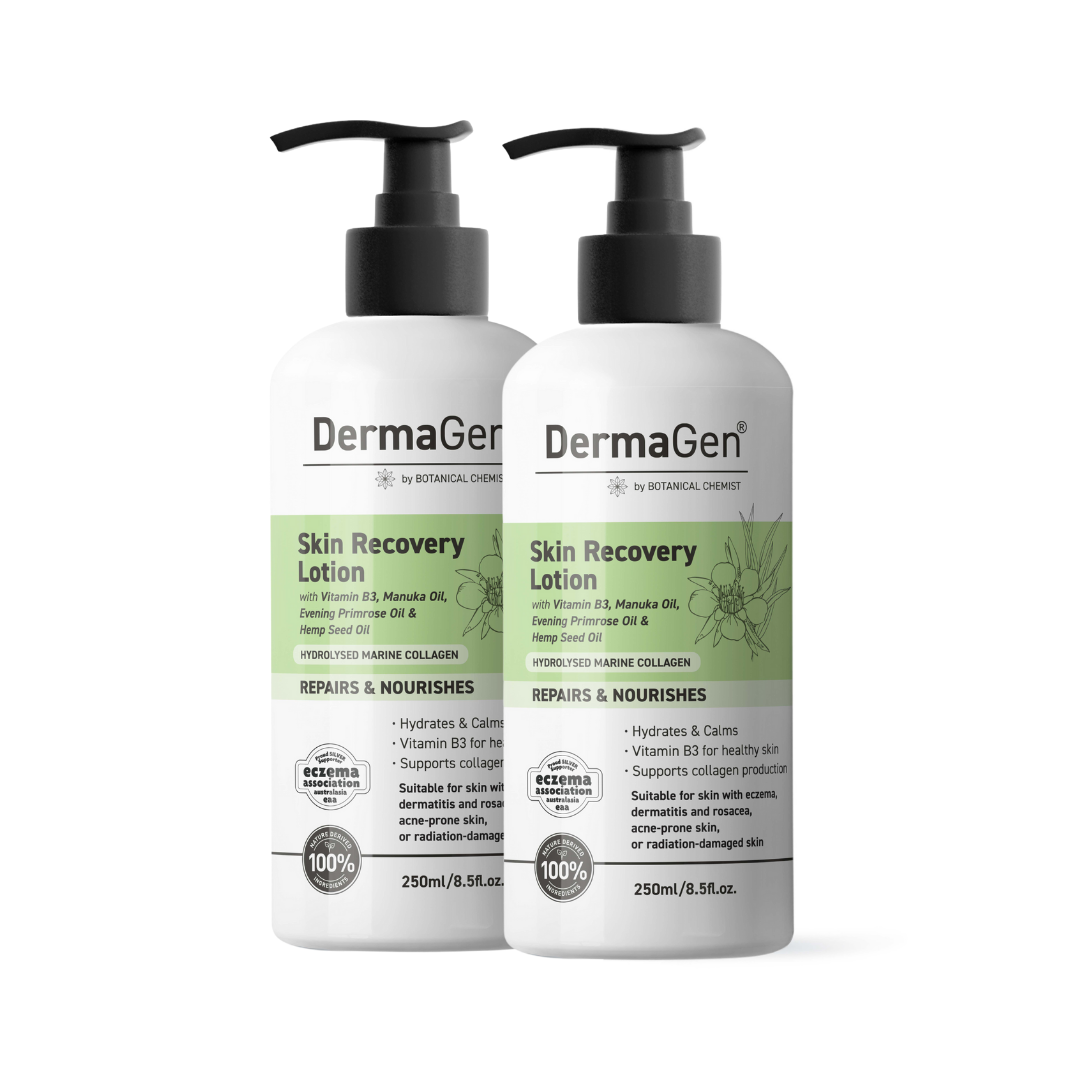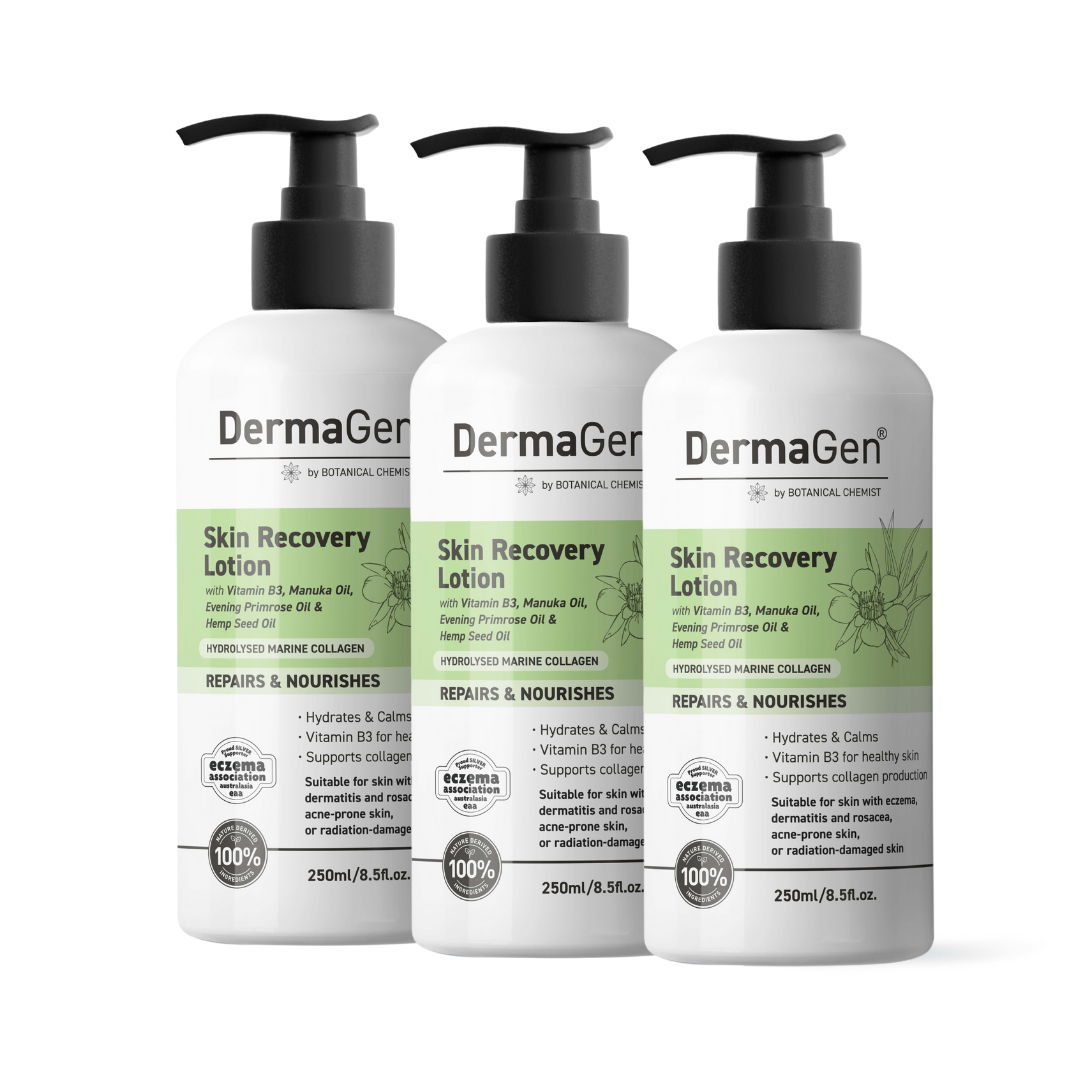 DermaGen Skin Recovery Lotion
Regular price
$36.95
$36.95
Free Express Shipping over $90
30-Day Money Back Guarantee (conditions apply)
Supporting Skin Regeneration
Low stock - 8 items left

Inventory on the way
Your Natural Solution for Skin Repair and Renewal

Are you struggling with skin conditions like eczema, dermatitis, acne or radiation-damaged skin?
Maybe you're an outdoor enthusiast exposed to UV radiation from the sun or undergoing chemo radiation treatment? If these scenarios resonate with you, our Australian-made Skin Recovery Lotion is your go-to solution for skin repair and renewal. 
Formulated with the same amount of Vitamin B3 as Solarcare, we have added Manuka Oil, Hemp Seed Oil and Shea and Cocao Butter to hydrate, nourish, and strengthen your skin barrier. Imagine having softer, calmer, and smoother skin, where your skin feels nourished, hydrated and renewed.
This Recovery Lotion also contains hydrolysed Marine Collagen which is a fabulous addition to skincare products as it stimulates the synthesis of collagen which is critical for healthy and softer skin. The Marine Collagen we use is extracted from the natural seaweed variety Porphyra tenera with water and hydrolyzed ( made smaller) so it can be easily absorbed by the skin. 
This product is free from parabens, PEGS, steroids, triclosan, nuts, wheat, dairy, for those with sensitive skin that need a nourishing moisturiser to soothe, calm and hydrate the skin barrier. 
This moisturising lotion aids in cellular repair, offers natural acne and pimple control, and provides hydration and nourishment to radiation-damaged skin barrier. It is also a great moisturiser for skin with rosacea.
Vit B3 or Niacinamide provides energy to cells to repair from DNA damage after exposure to
radiation, calms inflammation and reduces sebum production which is a contributing factor to the development of acne and pimples.

Manuka oil contains antioxidants to help with skin rejuvenation.
Combined in this lush, moisturise lotion, it's a powerhouse of nutrients for healthy, glowing skin.

Ideal moisturising lotion for:
• Radiation-damaged skin
(ie. UV or after chemo-therapy where the skin may be
inflamed or irritated)
• Skin with acne or pimple breakouts
• Skin with psoriasis-symptoms.
Directions for use
Can be used on the face and body, as it is lightweight and easily absorbed. Apply twice or three times a day or as required.
For more irritated spots or acne, apply a few drops of the Active 8 Serum before applying this lotion. 
Product warnings
Test patch before use.
Vitamin B3 may cause a
transient tingling on application.
If allergic to Vitamin B3, the Manuka Oil Lotion would be more suitable for you to use.
Storage & disposal
Below 30C, cool, dry place.
Recyclable tubes.
Full ingredients:
Aloe Barbadenis Leaf juice, Vit B3 (Niacinamide), Hemp Seed
Oil (Cannabis Sativa), Manuka Oil (Leptospermum Scoparium),
Sunflower Oil (Helianthus Annuus), Evening Primrose Oil,
(Oenothera Biennis), Shea Nut (Butyrospermum Parkii), Green
Tea Extract (Camellia Sinensis), Cocoa Butter (Theobroma
Cacao), Hydrolysed Marine Collagen (extracted from the
natural seaweed variety Porphyra tenera), Cetearyl Olivate,
Sorbitan Olivate, Coconut-derived Cetyl Alcohol, non-GMO
Vegetable Glycerine, Benzyl Alcohol, Salicylic Acid, Sorbic Acid,
non-GMO Xanthan Gum, Natural Vit E (D-alpha Tocopherol).
FREE express shipping to Australia for orders over $90